WOW
WHAT A NIGHT THAT WAS!
THANKS TO ALL WHO PARTICPATED.

A CD of the concert is in preparation.

Alan D. Sugarman
Producer
www.zortmusic.com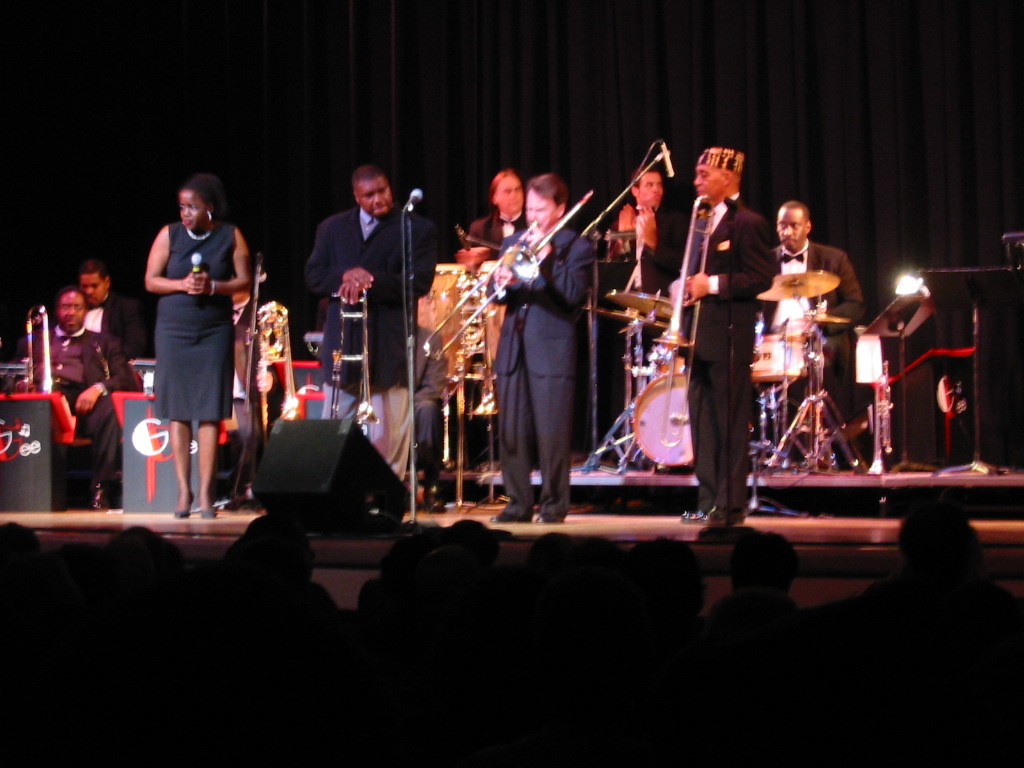 Carla, Wycliffe, Eddie, Benny at May 16 Salute
R. Sunshine Photo
Clark Terry at May 16 Salute
Click for Large Photo
R. Sunshine Photo


Legendary Trombonist
Eddie Bert
Returns to Town Hall
pick of the week
Village Voice/New Yorker
The Town Hall 8:00 PM
Thursday, May 16, 2002
123 W. 43rd. Steet New York, New York 212-840-2824


212-307-4100
Ticketmaster outlets.
Tickets also at www.zortmusic.com

Sponsored by the
The Friends of Eddie Bert
Featuring Eddie Bert with the
George Gee All Star Concert Orchestra
Under the Music Direction of
Walt Szymanksi
With Walt Sysmanksi and Lance Bryant Arrangements.

Master of Ceremonies: DAN MORGENSTERN, Institute of Jazz Studies, Rutgers University, Newark, NJ
SPECIAL GUESTS INCLUDE:
CLARK TERRY
WYCLIFFE GORDON
BENNY POWELL
SLIDE HAMPTON
LOREN SCHOENBERG
CARLA COOK
Also Renato Thoms, Latin Percussionist

Media Contact: Jim Eigo, Jazz Promo Services jazzpromo@earthlink.net
845-986-1677

Producer: Alan Sugarman, Zort Music, sugarman@zortmusic.com
212-873-1371
EDDIE BERT
Trombonist Eddie Bert's career spans nearly seven decades of Jazz, from big bands to bebop and beyond. In addition to being a Jazz musician who's played with one and all, he's been a regular in Broadway show bands, and a first call studio player. Yet no matter what the musical setting, Eddie has always played his uniquely personal, warm and melodic style of Jazz.
When renowned Jazz leaders needed a dependable, original trombonist for a significant recording or event in the second half of the twentieth century, they turned to Eddie Bert. In fact, his resume reads like a Who's Who of modern Jazz, including musical relationships with Thelonious Monk, Charles Mingus, Coleman Hawkins, Woody Herman, Stan Kenton, Machito, Tito Puente, Benny Goodman, Thad Jones and Mel Lewis.
There's a reason Eddie Bert has played with the Jazz masters--he's a truly gifted musician, a trombonist who has easily traversed eras and genres, from bop to swing, Mingus to Hampton, and Kenton to Herman. Eddie straddled the racial divide as well. He played in one of the first integrated big bands, Charlie Barnet's 1943 aggregation, which included Howard McGhee, Buddy DeFranco and Oscar Pettiford.
In addition to being one of the most dependable players in Jazz history, always in demand because of his sight reading skills and his ability to lend a passionate and individual approach to all music, Eddie is a soloist and arranger with a distinctive musical voice. In 1955, when he stopped playing only to sleep, he won Metronome's Musician of the Year award. He followed that with a top rated album of the same name for Savoy. He has led a number of other recordings during his distinguished career, featuring such sidemen as Duke Jordan, Joe Morello, Hank Jones and Kenny Clarke.
Interestingly, Eddie Bert reports that his major musical influences are saxophone players: "Lester Young was very important to me, as were Willie Smith, who taught me a lot about phrasing, and Budd Johnson. I worked with Budd and we used to hang around a lot. He had a great knowledge of music. My early influences on trombone were Trummy Young, Vic Dickenson and Benny Morton."
A participant in numerous Jazz history moments, Eddie is also a chronicler as well. Since his first days as a musician, he has kept a meticulous diary of everything he's done, including details of every gig and recording session, with the names of the other musicians and what they were paid for the gig. These notebooks have proven to be invaluable to Jazz historians, record producers and writers.
When Eddie returns to Town Hall this May, he will have come full circle. One of his first recordings was with Red Norvo at a June 9, 1945 Town Hall concert later issued by the Commodore label. Eddie was also a participant at two other major Town Hall events: Thelonious Monk's triumphant 1959 concert, and Charles Mingus' calamitous, self-presented event in 1962.
Today, on the eve of his 80th birthday, Eddie remains active, playing regularly with Bobby Short, The Duke Ellington Band, George Gee, and Loren Schoenberg, among others. "I love to play and travel," Eddie explains, "and I'm still doing them both."
Bret Primack, February, 2002 pariah@birdlives.com