Walt Szymanksi Trumpet and Music Director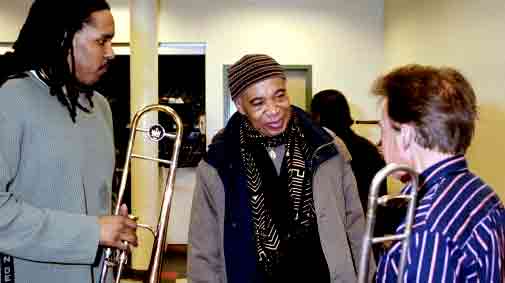 February 28, 2002 Rehearsal for Eddie Bert Tribute
(Roseland NYC 1999 or Zurich Festival 2001 where indicated)

Basie Trombonist Benny Powell chats with Eddie and LCJO trombonist
Vincent Gardner
Photos by Clement Kois (Roseland 1999), Masahiro Noguchi (rehearsal 2002), Alan Sugarman (Zurich)
C 1999-2002 Zort Music
Left: George Gee Leads Rehearsal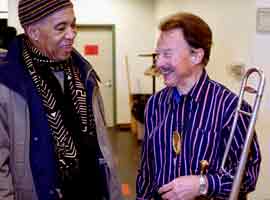 Eddie, Charles Stephens, Vincent Gardner, Jack Jeffers: "The Big Dipper"
Jack Jeffers, Bass Trombone Director Duke Ellington Band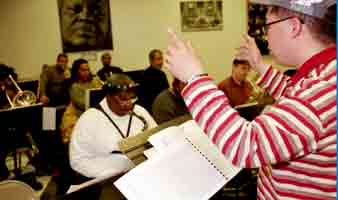 Left: Charles Stephens, veteran Lionel Hampton Trombonist
Left: Lance Bryant - Tenor Sax, Co-Musical Director George Gee Swingin' Big Bands at Roseland, 1999
Right: Alex Harding, Baritone Sax
Right: Veteran Eddie Pazant Alto and Clarinet in Zurich 2001
Left: Willard Dyson on drums oversees the band at Roseland Ballroom 1999.
Left:Carla Cook, Grammy Nominee Best Jazz Vocals
Right: Steve Wiseman at Zurich Festival. Steve's Grandfather played with Eddie in Bill Finegan's Army Band.
Left: Pianist Jon Cowherd at the Zurich Festival 2001
Not pictured:
Daryl Hall, bass
Derrick Gardner, trumpet.